Dashboards and Visualizations
Dashboards provide a combination of data and visualizations that are designed to improve access to and interpretation of large amounts of information. Dashboards are usually interactive. They allow cybersecurity analysts to focus on specific details and information by clicking on elements of the dashboard. For example, clicking on a bar in a bar chart could provide a breakdown of the information for the data represented by that bar. Kibana includes the capability of designing custom dashboards. In addition, other tools that are included in Security Onion, such as Squert, provide a visual interface to NSM data. In this article, I will look at Dashboard and Visualisation for Cyber Analysis. 
Selecting Visualizations for a Custom Kibana Dashboard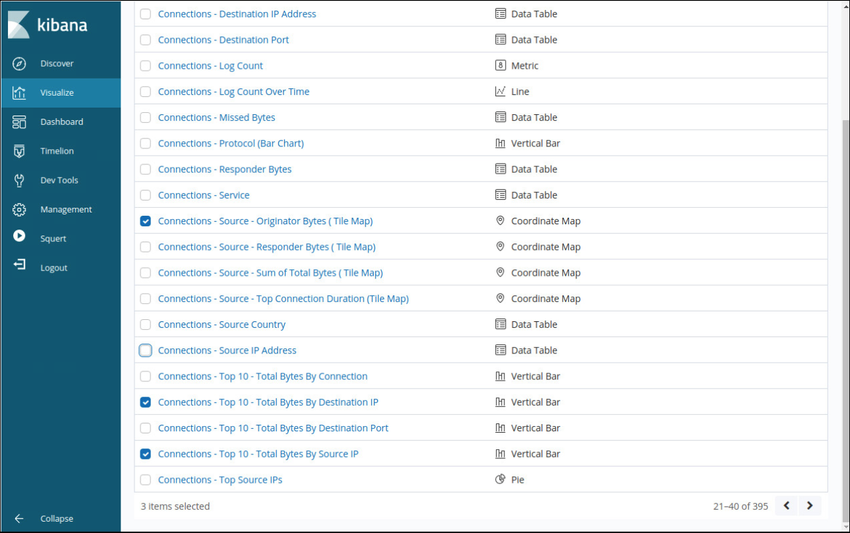 Because of the critical nature of network security monitoring, it is essential that workflows are managed. Workflows are the sequence of processes and procedures through which work tasks are completed. Managing SOC workflows enhances the efficiency of the cyber operations team, increases the accountability of staff, and ensures that all potential alerts are treated properly. In large security organizations, it is conceivable that thousands of alerts will be received daily. Each alert should be systematically assigned, processed, and documented by cyber operations staff.
Runbook automation, or workflow management systems, provide the tools necessary to streamline and control processes in a cybersecurity operations centre. Sguil provides basic workflow management. However, it is not a good choice for large operations with many employees. Instead, third party workflow management systems are available that can be customized to suit the needs of cybersecurity operations.
In addition, automated queries are useful for adding efficiency to the cyber operations workflow. These queries, sometimes known as plays, or playbooks, automatically search for complex security incidents that may evade other tools. In Kibana, filtered searches can be turned into visualizations, which can be dynamically updated and monitored to track events. The ELK stack can add alerting functionality by installing the X-Pack extension into Elastic. X-Pack is a commercial extension to Elasticsearch and bundles security, alerting, monitoring, reporting, and graph capabilities. Elasticsearch provides multiple forms of alert notification and can notify cybersecurity analysts by email or other means. In addition to X-Pack, Elastic.co also offers there own commercial Elastic SIEM product with advanced monitoring, alerting, and orchestration capabilities.
Action Point
I know you might agree with some of the points that I have raised in this article. You might not agree with some of the issues raised. Let me know your views about the topic discussed. We will appreciate it if you can drop your comment. Thanks in anticipation.
Download Our App.
CEHNigeria On Google Playstore
Download Our Blog App On Google Playstore.
GET SEOPOZ. OUTSMART YOUR BLOG COMPETITORS
Have a deeper understanding of Google Search Console. Joint SEOPOZ for free.
Joint Our Whatsapp Group Here
Follow Us On Twitter and I will Follow Back
Follow Us On Twitter
Kindly follow me on Twitter and I promise I will follow back. Aside you will get updated when we post new articles.