The first computers did not have modern storage devices such as hard drives, optical drives, or flash storage. The first storage methods used punch cards, paper tape, magnetic tape, and even audio cassettes.
Floppy disk and hard disk storage require software to read from, write to, and manage the data that they store. The Disk Operating System (DOS) is an operating system that the computer uses to enable these data storage devices to read and write files. DOS provides a file system that organizes the files in a specific way on the disk. Microsoft bought DOS and developed MS-DOS.
MS-DOS used a command line as the interface for people to create programs and manipulate data files, as shown in the command output. DOS commands are shown in bold text.
Starting MS-DOS...
HIMEM is testing extended memory... done.
C:\> C:\DOS\SMARTDRV.EXE /X 
C:\> dir
Volume in drive C is MS-DOS_6 
Volume Serial Number is 4006-6939 
Directory of C:\
DOS         <DIR>        05-06-17  1:09p
COMMAND  COM      54,645 05-31-94  6:22a
WINA20   386       9,349 05-31-94  6:22a
CONFIG   SYS          71 05-06-17  1:10p
AUTOEXEC BAT          78 05-06-17  1:10p
        5 file(s)       64,143 bytes
                   517,021,696 bytes free
C:\>
With MS-DOS, the computer had a basic working knowledge of how to access the disk drive and load the operating system files directly from the disk as part of the boot process. When it was loaded, MS-DOS could easily access the disk because it was built into the operating system.
Early versions of Windows consisted of a Graphical User Interface (GUI) that ran over MS-DOS, starting with Windows 1.0 in 1985. The disk operating system still controlled the computer and its hardware. A modern operating system like Windows 10 is not considered a disk operating system. It is built on Windows NT, which stands for "New Technologies". The operating system itself is in direct control of the computer and its hardware. NT is an OS with support for multiple user processes. This is much different from the single-process, single-user MS-DOS.
Today, many things that used to be accomplished through the command line interface of MS-DOS can be accomplished in the Windows GUI. You can still experience what it was like to use MS-DOS by opening a command window, but what you see is no longer MS-DOS, it is a function of Windows. To experience a little of what it was like to work in MS-DOS, open a command window by typing cmd in Windows Search and press Enter. The table lists some commands that you can use. Enter help followed by the command to learn more about the command.
| MS-DOS Command | Description |
| --- | --- |
| dir | Shows a listing of all the files in the current directory (folder) |
| cd directory | Changes the directory to the indicated directory |
| cd .. | Changes the directory to the directory above the current directory |
| cd \ | Changes the directory to the root directory (often C:) |
| copy source destination | Copies files to another location |
| del filename | Deletes one or more files |
| find | Searches for text in files |
| mkdir directory | Creates a new directory |
| ren oldname newname | Renames a file |
| help | Displays all the commands that can be used, with a brief description |
| help command | Displays extensive help for the indicated command |
Since 1993, there have been more than 20 releases of Windows that are based on the NT operating system. Most of these versions were for use by the general public and businesses because of the file security offered by the file system that was used by the NT OS. Businesses also adopted NT OS-based Windows operating systems. This is because many editions were built specifically for a workstation, professional, server, advanced server, and datacenter server, to name just a few of the many purpose-built versions.
Beginning with Windows XP, a 64-bit edition was available. The 64-bit operating system was an entirely new architecture. It had a 64-bit address space instead of a 32-bit address space. This is not simply twice the amount of space because these bits are binary numbers. While 32-bit Windows can address a little less than 4 GB of RAM, 64-bit Windows can theoretically address 16.8 million terabytes.
When the OS and the hardware all support 64-bit operation, extremely large data sets can be used. These large data sets include very large databases, scientific computing, and manipulation of high definition digital video with special effects. In general, 64-bit computers and operating systems are backwards-compatible with older, 32-bit programs, but 64-bit programs cannot be run on older, 32-bit hardware.
With each subsequent release of Windows, the operating system has become more refined by incorporating more features. Windows 7 was offered with six different editions, Windows 8 with as many as five, and Windows 10 with eight different editions! Each edition not only offers different capabilities but also different price points. Microsoft has said that Windows 10 is the last version of Windows and that Windows has become a service rather than just an OS. They say that rather than purchasing new operating systems, users will just update Windows 10 instead.
The table lists common Windows versions.
| OS | Versions |
| --- | --- |
| Windows 7 | Starter, Home Basic, Home Premium, Professional, Enterprise, Ultimate |
| Windows Server 2008 R2 | Foundation, Standard, Enterprise, Datacenter, Web Server, HPC Server, Itanium-Based Systems |
| Windows Home Server 2011 | None |
| Windows 8 | Windows 8, Windows 8 Pro, Windows 8 Enterprise, Windows RT |
| Windows Server 2012 | Foundation, Essentials, Standard, Datacenter |
| Windows 8.1 | Windows 8.1, Windows 8.1 Pro, Windows 8.1 Enterprise, Windows RT 8.1 |
| Windows Server 2012 R2 | Foundation, Essentials, Standard, Datacenter |
| Windows 10 | Home, Pro, Pro Education, Enterprise, Education, loT Core, Mobile, Mobile Enterprise |
| Windows Server 2016 | Essentials, Standard, Datacenter, Multipoint Premium Server, Storage Server, Hyper-V Server |
Windows has a graphical user interface (GUI) for users to work with data files and software. The GUI has a main area that is known as the Desktop.
The Desktop can be customized with various colours and background images. Windows supports multiple users, so each user can customize the Desktop to their liking. The Desktop can store files, folders, shortcuts to locations and programs, and applications. The Desktop also has a recycle bin icon, where files are stored when the user deletes them. Files can be restored from the recycle bin or the recycle bin can be emptied of files, which truly deletes them.
At the bottom of the desktop is the Task Bar. The Task Bar has three areas that are used for different purposes. At the left is the Start menu. It is used to access all of the installed programs, configuration options, and the search feature. At the centre of the Task Bar, users place quick launch icons that run specific programs or open specific folders when they are clicked. Finally, on the right of the Task Bar is the notification area. The notification area shows, at a glance, the functionality of many different programs and features. For example, a blinking envelope icon may indicate a new email, or a network icon with a red "x" may indicate a problem with the network.
Often, right-clicking an icon will bring up additional functions that can be used. This list is known as a Context Menu, shown in the figure.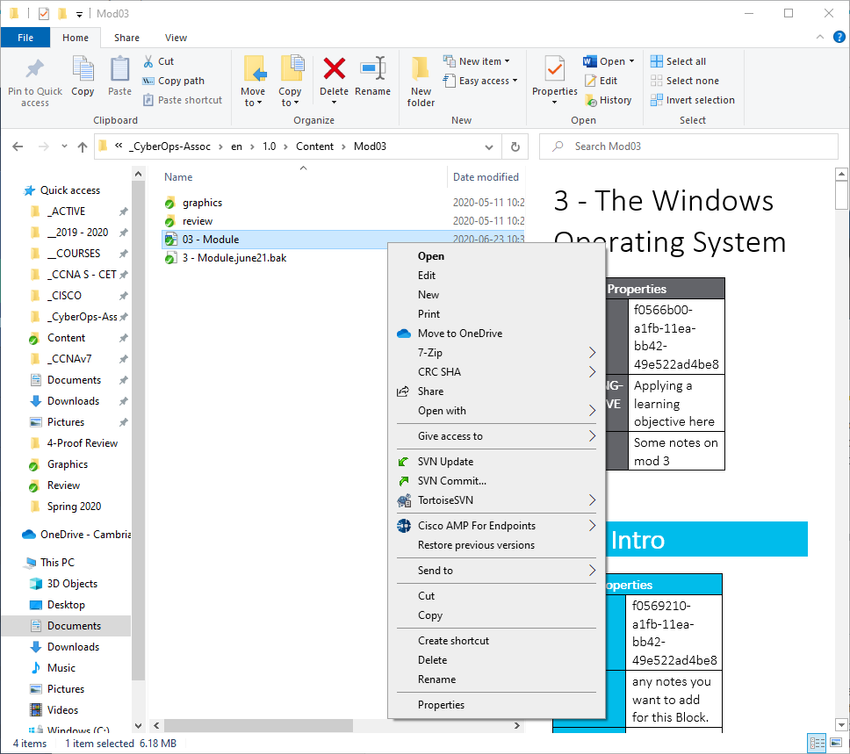 There are Context Menus for the icons in the notification area, for quick launch icons, system configuration icons, and for files and folders. The Context Menu provides many of the most commonly used functions by just clicking. For example, the Context Menu for a file will contain such items as copy, delete, share, and print. To open folders and manipulate files, Windows uses the Windows File Explorer.
Operating System Vulnerabilities
Operating systems consist of millions of lines of code. Installed software can also contain millions of lines of code. With all this code comes vulnerabilities. A vulnerability is some flaw or weakness that can be exploited by an attacker to reduce the viability of a computer's information. To take advantage of an operating system vulnerability, the attacker must use a technique or a tool to exploit the vulnerability. The attacker can then use the vulnerability to get the computer to act in a fashion outside of its intended design. In general, the goal is to gain unauthorized control of the computer, change permissions, or to manipulate or steal data.
The table lists some common Windows OS Security recommendations.
Recommendation
Description
Virus or malware protection

By default, Windows uses Windows Defender for malware protection.

Windows Defender provides a suite of protection tools built into the system.

If Windows Defender is turned off, the system becomes more vulnerable to attacks and malware.

Unknown or unmanaged services

There are many services that run behind the scenes.

It is important to make sure that each service is identifiable and safe.

With an unknown service running in the background, the computer can be vulnerable to attack.

Encryption

When data is not encrypted, it can easily be gathered and exploited.

This is not only important for desktop computers, but especially mobile devices.

Security policy

A good security policy must be configured and followed.

Many settings in the Windows Security Policy control can prevent attacks.

Firewall

By default, Windows uses Windows Firewall to limit communication with devices on the network.

Over time, rules may no longer apply.

For example, a port may be left open that should no longer be readily available.

It is important to review firewall settings periodically to ensure that the rules are still applicable and remove any that no longer apply

File and share permissions

These permissions must be set correctly.

It is easy to just give the "Everyone" group Full Control, but this allows all people to do what they want to all files.

It is best to provide each user or group with the minimum necessary permissions for all files and folders.

Weak or no password

Many people choose weak passwords or do not use a password at all.

It is especially important to make sure that all accounts, especially the Administrator account, have a very strong password.

Login as Administrator

When a user logs in as an administrator, any program that they run will have the privileges of that account.

It is best to log in as a Standard User and only use the administrator password to accomplish certain tasks.
Action Point
I know you might agree with some of the points that I have raised in this article. You might not agree with some of the issues raised. Let me know your views about the topic discussed. We will appreciate it if you can drop your comment. Thanks in anticipation.
Download Our App.
CEHNigeria On Google Playstore
Download Our Blog App On Google Playstore.
GET SEOPOZ. OUTSMART YOUR BLOG COMPETITORS
Have a deeper understanding of Google Search Console. Join SEOPOZ for free.
Join Our Whatsapp Group Here
Follow Us On Twitter and I will Follow Back
Follow Us On Twitter
Kindly follow me on Twitter and I promise I will follow back. Aside you will get updated when we post new articles.