Have you ever considered creating a sitemap for your web as one of the best on-page SEO practices? I did, a few years ago. When I started to work as an SEO consultant, it didn't cross my mind that not every website necessary needs a sitemap. Later it made me think about this topic little bit more.
However, creating a sitemap might get quite technical, and it is often ignored by many marketers. In this article, I want to explain in a simple way best practices when creating a sitemap and highlight some points that you should be aware of and keep in mind while doing that.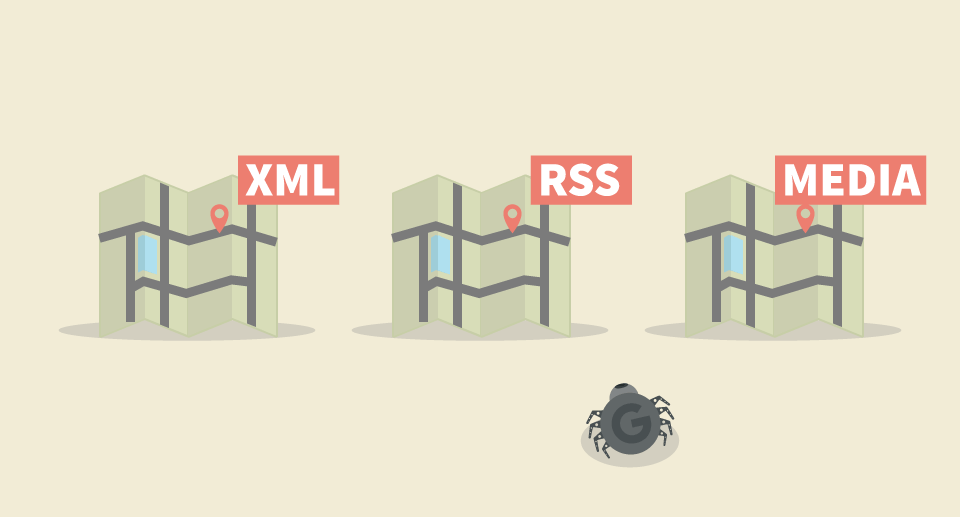 1. There are more types of sitemaps than just the XML sitemap
The sitemap doesn't have to be only an XML sitemap. There are others you can consider for your website:
You've probably already heard about an RSS feed, which is typical for blogs or websites that regularly update their content.
Other than RSS, there is also the mRSS feed that serves websites that often update their video content.
If you are in the news industry, you should know about Google News Sitemap.
Also available are mobile, image or video extensions for an XML sitemap.
I want to mention also the alternate language XML sitemap, which is for all websites in different languages.
Don't know what is an XML sitemap? Check our SEOpedia post: XML Sitemap
If you want to learn more about the types of sitemaps and how to implement them easily, you can read about it in this complex sitemap guide.
2. Creating a sitemap is not for every website
This is a very important thing that you should know about. Because not every website needs the sitemap.
Here are some examples of websites that don't need a sitemap:
Company pages

Presentation pages

Portfolio websites

Small shops

SaaS application

Product comparators

And others
Those are just examples. The best way how to decide whether you need a sitemap or not is to answer these three questions.
Is your page really large? If yes, you need a sitemap.
Is your page entirely new and needs fast indexation? If yes, you need a sitemap.
Is your website covering lots of news and the search engine needs to get to your content very fast? If yes, you need a sitemap.
And logically, if not, you don't need it.
Back to my story at the beginning of the article. The website that I was working for was a finance comparator, and it had about 50,000 indexed pages. They were mostly content and product pages. The site was not new, so the pages were indexed quite well. And it was not a website about the news. So they didn't need a sitemap at all.
3. Using a static sitemap generator makes sense only in one case
When you type into Google "how to make a sitemap," you will get hundreds of queries with tools that will be offering to generate a sitemap for you. It sounds tempting, but it is useless to you.
If your site is new and you need to get indexed fast, it is the only case when you should go for a static sitemap generator.
But take into consideration that it won't be necessary for you in the long term. Once you add more URLs to your website, they are not available at your sitemap. Because at the time you used the static generator, you didn't have those URLs on the site.
Another reason why not to use a static sitemap generator is that these generators crawl everything on the website. It means they also include URLs that you don't want to be included, like redirections or error pages.
The static generator also didn't consider URLs that are not linked from your page. For example, if you have a special campaign on a special URL that is not linked to, the sitemap generator won't know about it. But if you implement your sitemap by yourself, you can include these URLs if you want to.
On the contrary, there is still an option to use a dynamic sitemap generator that will automatically update your content in the sitemap. A typical example of this is the Yoast SEO plugin that is popular mostly among bloggers.
4. You should exclude specific types of URLs in the sitemap
As I mentioned earlier, your sitemap doesn't necessarily have to contain all of the URLs that are on your website. You want to have only quality URLs in your sitemap. I am talking about the important URLs for search engines.
You should, and you can very easily, exclude URLs and pages like:
Duplicated, paginated or canonicalized pages

Redirections (3xx), client (4xx) or server (5xx) error pages

Pages that are disallowed by robots.txt or pages with noindex

URLs with parameters that were, for example, created by filters at your website
Basically, any URL that you don't want the search engine to crawl is not suitable for including into your sitemap.
5. Every sitemap has its limitations
When creating a sitemap, it is important to know its limitations. The sitemap shouldn't contain more than 50,000 URLs, and the uncompressed file size shouldn't exceed 50 MB.
In case you need to place more URLs into your sitemap, which is very often, you can divide it into more files. For example, you can create three sitemaps called products1.xml, products2.xml and products3.xml, and you can put them all into the sitemap index.
But there are also other limitations. You can't have more than 50,000 different sitemaps in one sitemap index, and you can upload a maximum of 500 sitemaps indexes into Google Search Console.
Even if it does sound difficult now, there is nothing to worry about. For now, just keep in mind the information that there are some limitations. And once you create a sitemap for your website, you can easily use our sitemap cheat sheet that will help you with everything.
6. It makes sense to keep your sitemap private
You can link your sitemap into robots.txt file. But you don't have to. Just consider it. Robots.txt is a public source, and anyone can easily get important data about your site. If you have most of your traffic from organic search, you might want to avoid it.
Another good solution on how to make your sitemap private is to change the name of the URL where is the sitemap placed. Most sites use a standard URL like example.com/sitemap.xml, but you can change it to whatever you want. Even something like this: example.com/this-is-my-private-sitemap. But don't forget that if you change the name of your sitemap, you have to submit it to Google Search Console.
Conclusion
Think before you start working with sitemaps for your website. It is not only about XML sitemap, and it is not suitable for every site. There is more magic behind this topic than you might think.
In case you have further questions about the things that I mentioned in the article, don't hesitate to ask me below in the comments.